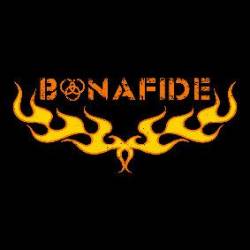 Biography:
Edit
Bonafide was formed by singer/guitarist (and awesome drummer for Jason & The Scorchers) Pontus Snibb and rock solid bassplayer Michael Nilsson in Malmö, southern Sweden, in 2006. Pontus, who had already made quite a name for himself playing with countless well known artists on the Scandinavian blues and rock scene, wanted to broaden his musical horizon by turning the volume to 11 and play hard rock the way it's supposed to be played - True to it's roots in the electric blues and early R'n'B. Enter Mikael Fässberg, guitarist (Paul DiAnno, ex Nazareth guitarist Manny Charlton etc) and Sticky Bomb, drummer with an attitude, and the quartet was complete
---
Mikael Fässberg - guitars
Pontus Snibb - vocals, guitars
Niklas Matsson - drums
Martin Ekelund - bass
---
Discography:
Edit
Bonafide (2008)
Something's Dripping (2009)
Ultimate Rebel (2012)
---
Website: http://www.bonafiderocks.com/
---
---
Ad blocker interference detected!
Wikia is a free-to-use site that makes money from advertising. We have a modified experience for viewers using ad blockers

Wikia is not accessible if you've made further modifications. Remove the custom ad blocker rule(s) and the page will load as expected.