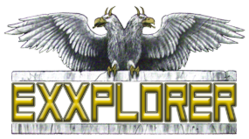 Biography:
Edit
Exxplorer was formed during the height of the 80's metal scene in New Jersey. The band has been regarded as one of the most original heavy metal bands of that era. Their first Album, Symphonies of Steel, has been recognized for well over twenty years as one of the most innovative and influential heavy metal albums of all time. The album topped the charts in several countries for overall import sales and appeared at the top of hundreds of radio play lists throughout Europe, and in many of what were still then considered communist countries. Meanwhile the band continued to create momentum generated from their European success.
The band's second album, "A Recipe for Power", was released in 1994. Although a period of time had passed between the first and second albums, the fans loved the new album for its blend of 80's progressive power metal, with a 90's edge, demonstrating their longevity as a band as the demand for music changed. Exxplorer continued on with their success and in 1997 was noticed by Atlantic Records producer Bruce Buchanan, who decided to work with the band on their 3rd album, "Cold Black Ugly".
Exxplorer recently reunited with four of 1994's original line up and in April 2009, they were invited to perform at the Keep it True Metal Festival in Germany. What happened next was beyond belief; a massive gathering of fans that have waited for years came out to show their loyalty and see this band live once again. This show of support gave Exxplorer an immediate invitation back to Germany to perform at the Headbangers Open Air Fest in July 2009 and again went over amazingly.
The overwhelming response has created huge demand for a new Exxplorer release and subsequent return dates to Europe are now in the works. The new Exxplorer album is due to be released in the spring of 2011. The band decided to seek the professional help of Frank James, of Rage On Stage Management. "We're looking to pair Exxplorer up with another power metal band of the 90's," says James. This bill should bring even more fans out of the woodwork throughout Europe.
---
Lennie Rizzo - vocals
Mike Sakowski - drums
Kevin Kennedy - guitars
Fred Gorhau - guitars
Jay McCaffrey - bass
---
Discography:
Edit
Symphonies of Steel (1984)
A Recipe for Power (1994)
Coldblackugly (1996)
Vengeance Rides An Angry Horse (2011)
---
Website: http://www.exxplorer.net/
---