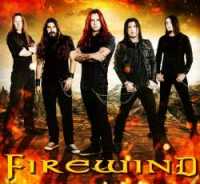 Biography:
Edit
The guitar player originally started the band in Thessaloniki in 1998. "For some time I studied at Berklee College of music in the USA. Some friends helped me to put together a demo, that I named FIREWIND, after an album of Uli Jon Roth's band Electric Sun. I sent this demo around and got a couple of offers." Consequently FIREWIND released their debut "Between Heaven And Hell" in 2002. The following year saw "Burning Earth" and new keyboard player Bob Katsionis joined before 2005's "Forged By Fire", the album which also saw the band signing a new worldwide deal with Century Media Records. By that time Gus G. decided to make FIREWIND his main priority and also a proper touring band, so he left his other bands Dream Evil, Mystic Prophecy, Arch Enemy (who he toured Ozzfest with in 2005) and Nightrage. With renewed energy and finding their current singer Apollo Papathanasio, FIREWIND recorded "Allegiance" (2006) and "The Premonition" (2008) as well as the "Live Premonition" DVD/Live-CD release (2008). To promote their albums the stormy Greek rockers were involved in several touring activities. In 2006/2007 they toured Asia, USA, Africa and Europe. All in all they played more than hundred concerts. When not playing as headliners, the restless fivesome shared stages with Dragonforce, Kamelot, Sonata Arctica, Edguy and Joe Satriani. In 2008 FIREWIND toured successfully with their friends Kamelot, followed by a US tour alongside Arch Enemy, Dark Tranquillity and Divine Heresy. The summer months consisted of triumphant festival gigs (Download, Graspop, Bang Your Head, etc.) and to finish a great year the band toured as headliners through Europe.
---
Apollo Papathanasio - vocals
Gus G. - guitars
Petros Christo - bass
Bob Katsionis - keyboards, guitars
---
Discography:
Edit
Between Heaven and Hell (2002)
Burning Earth (2003)
Forged by Fire (2004)
Allegiance (2006)
The Premonition (2008)
Days of Defiance (2010)
Few Against Many (2012)
---
Website: http://www.firewind.gr/
---
Ad blocker interference detected!
Wikia is a free-to-use site that makes money from advertising. We have a modified experience for viewers using ad blockers

Wikia is not accessible if you've made further modifications. Remove the custom ad blocker rule(s) and the page will load as expected.