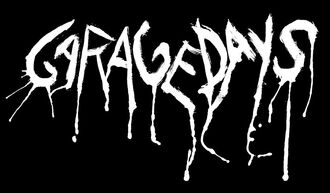 Biography:
Edit
Garagedays was founded in 2005 in Rattenberg, Austria by Marco Kern with the
motivation to bring together a band dedicated to 80's metal. After a long search and various lineups, Garagedays chose Martin Bogner as their drummer, and
Dominik Eder as their bass player. With this lineup, Garagedays began writing
songs and performing their songs to the public. From early 2006 to 2007,
Garagedays completed a 10 track demo CD called "Wild and Dangerous".At the
end of 2008, Garagedays replaced their drummer, Martin Bogner with Matthias Mai,
and added prodigy guitarist Rene Auer. With this lineup, they finish their
second demo CD, "Leather and Spikes". In 2010, Garagedays records two more
albums. In January they complete "Sight of the Blind" and in July, Garagedays
complete their debut album, "Dark and Cold", which is recorded at Sonic Train
Studio in Varberg, Sweden and recorded and produced by King Diamond guitarist
Andy LaRocque. "Dark and Cold" is awarded Demo of the Month by German
magazine, Metal Hammer, and soon after, Garagedays signs a contract
with Massacre Records. In April and May of 2011, Garagedays supports the
new CD with a European tour with death metal legends MASTER.
2012/2013 Garagedays created a new album. The upcoming album is produced by Ralf Scheepers (PRIMAL FEAR) and the Band. Ralf Scheepers took also part with his outstanding vocals! Mix and Mastering Andy LaRocque (KING DIAMOND).
 Marco Kern - guitars / vocals

 Dominik Eder - bass

 Rene Auer - guitars

 Matthias Mai - drums

---
Discography:
Edit
 Dark and Cold (2011)
 Passion of Dirt (2014)

---
---
Ad blocker interference detected!
Wikia is a free-to-use site that makes money from advertising. We have a modified experience for viewers using ad blockers

Wikia is not accessible if you've made further modifications. Remove the custom ad blocker rule(s) and the page will load as expected.