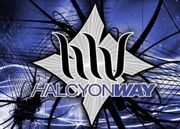 Biography:
Edit
Halcyon Way is Atlanta's premier heavy metal band. They are known for their explosive live shows, instantly catchy melodies, precise vocal harmonies, incendiary guitar work, intricate yet pounding drums, and showmanship hearkening back to the glory days of arena rock. Aurally combining the heaviness of bands like Slayer, Chimaira, DevilDriver, Testament, and the like; accessible melodies reminding you of bands like King's X, Disturbed, and Queensryche, along with technical brilliance and a twist of Dream Theater, you will be pummeled with the punishing riffs while being lovingly caressed by the unforgettable hooks. In 2008, Halcyon Way released their long-awaited debut, "A Manifesto For Domination". Produced by guitarist Jon Bodan with assistance from James Murphy (Testament, Death, Obituary), mixed by Lasse Lammert (Alestorm, Incubator), and mastered by James Murphy, the record was released worldwide via Nightmare Records.
---
Steve Braun - Vocals
Jon Bodan - Lead Guitars, Backing Vocals, Death Vocals
Ernie Topran - Lead Drums & Percussion Solos
Max Eve - Guitars & Backing Vocals
Skyler Moore - Bass, Backing & Death Vocals
---
Discography:
Edit
A Manifesto for Domination (2008)
Building the Towers (2010)
IndoctriNation (2011)
Conquer (2014)
---
[myspace]
---
Ad blocker interference detected!
Wikia is a free-to-use site that makes money from advertising. We have a modified experience for viewers using ad blockers

Wikia is not accessible if you've made further modifications. Remove the custom ad blocker rule(s) and the page will load as expected.