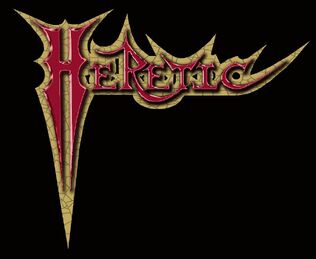 Biography:
Edit
Heretic was born during the mid 80's in Southern California. They were one of the top acts in the LA area.This drew the attention of Metal Blade Records who went on to sign them. They were first featured on the Metal Massacre 7 compilation. Later they released the EP Torture Knows No Boundary,and the full length LP Breaking Point. After the release of Breaking Point the band split up when their lead singer joined the band Metal Church. Instead of continuing on guitarist Brian Korban, and bassist Dennis Ohara went on to form the band Reverend with former Metal Church singer David Wayne. With the support of their underground following Heretic is back with their classic Power/Thrash sound. Look for a new release in 2012.
---
Julian Mendez - vocals
Brian Korban - guitars
Angelo Espino - bass
Glenn Rogers - guitars
Ignazio Iggy Coppola - drums
---
Discography:
Edit
Torture Knows No Boundary (EP) (1986)
Breaking Point (1988)
A Time of Crisis (2012)
---
Website: http://www.hereticusa.com/
---
Ad blocker interference detected!
Wikia is a free-to-use site that makes money from advertising. We have a modified experience for viewers using ad blockers

Wikia is not accessible if you've made further modifications. Remove the custom ad blocker rule(s) and the page will load as expected.