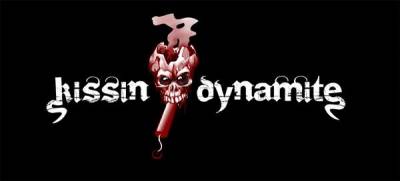 Biography:
Edit
Exciting, dangerous and explosive - that's Kissin' Dynamite. The swabian sleaze mezal commando lives up to it's name, 'cause Kissin' Dynamite is more than just a band, it's an attitue to life. And this feeling is, what those 5 rockstars impart with every second they stand on stage.
What the fans love about this group, that was born in 2006, is entertainment on the highest stage. Due to cool 80ies look, biggest playing passion, accuratest tightness and electrifying stageacting, you get an stimulus overkill, visually as well as acoustically.
Lead singer Hannes, the two guitarists Ande and Jim, bassist Steffen and drummer Andi are tight-knit with their audience like barely no other band can do and manage like that to let every gig be an adventure for the fans.
Meanwhile, the band has got a list of several achievements.
By now, they played over 600 live-concerts in whole Europe and also big international festivals. Even the most popular TV channels in Germany book them for shows on television.
After their debut album "Steel Of Swabia" (2008) and the second record "Addicted To Metal" (2010) KISSIN´ DYNAMITE has now released their third longplayer "Money, Sex & Power" internationally with chart success.
The band has also played support shows for the biggest heroes of this scene such as Edguy, Steel Panther, W.A.S.P., Slash and Mötley Crüe convincing the fans but also the bands.
---
Andreas Braun - guitars
Jim Müller - guitars
Andreas Schnitzer - drums
Hannes Braun - vocals
Steffen Haile - bass
---
Discography:
Edit
Steel of Swabia (2008)
Addicted to Metal (2010)
Money, Sex and Power (2012)
---
Website [1]
---
Ad blocker interference detected!
Wikia is a free-to-use site that makes money from advertising. We have a modified experience for viewers using ad blockers

Wikia is not accessible if you've made further modifications. Remove the custom ad blocker rule(s) and the page will load as expected.