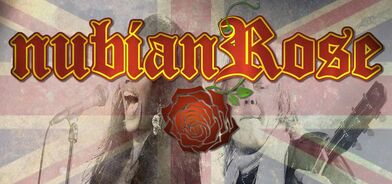 Biography:
Edit
NUBIAN ROSE is a Swedish band built around the fantastic voice of the charismatic Sofia Lilja. With roots in the melodic hard rock of the 80's, they blend powerful riffs with great melodies. The debut album, Mountain, was released in Sweden in the end of June. The reputation of the album reached way outside of the Swedish borders just within weeks. Nubian Rose has already been played on radio in Italy, Spain, France, Greece and USA. Fans from all over the world has signed up to their Facebook page and the album has even been number one on rock charts at international mailordercompanies. All this without any international releases or any kind of pr, just through the power of the Internet, rock fans and great music.
The music of Nubian Rose is influenced by the makers of great hard rock riff in the 80's; Whitesnake, Dio, Scorpions, Michael Schenker to name a few. "Mountain" has a powerful, up to date sound and is mixed by swedish star producer Tobias Lindell (Europe, H.e.a.t. Hardcore Superstar). Live, Nubian Rose is almost more powerful then on the album. Sofia Lilja is a true rock icon that knows how to be in charge of a stage and of an audience. Backed up by her companion, guitarist Christer Åkerlund and the rest of the band, they will spellbind any crowd.
---
Sofia Lilja Åkerlund - vocals
Thomas Lindgren - lead guitar
Christer Åkerlund - lead guitar
Henric Uhrbom - bass
Fredrik Åkerlund - keyboards
David Algesten - Drums
---
Discography:
Edit
Mountain (2012)
---
Website: http://www.nubianrose.com/
---
Ad blocker interference detected!
Wikia is a free-to-use site that makes money from advertising. We have a modified experience for viewers using ad blockers

Wikia is not accessible if you've made further modifications. Remove the custom ad blocker rule(s) and the page will load as expected.