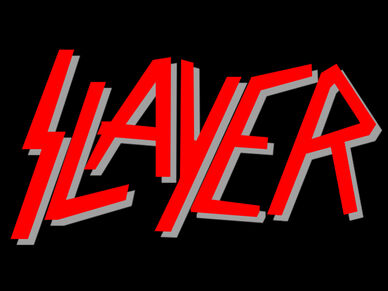 Biography:
Edit
Slayer is an American heavy metal band from Huntington Park, California. Formed in 1981, the group was founded by guitarists Jeff Hanneman and Kerry King who recruited vocalist and bassist Tom Araya, and drummer Dave Lombardo.. Slayer is credited as one of the "Big Four" thrash metal acts, along with Metallica, Megadeth and Anthrax.
Slayer's musical traits involve fast tremolo picking, atonal guitar solos, double bass drumming, and shouting vocals. The band's lyrics and album art, which cover topics such as serial killers, Satanism, religion and warfare, have generated album bans, delays, lawsuits and strong criticism from religious groups and the public.
Slayer's first two albums, "Show No Mercy" (1983) and "Hell Awaits" (1985), which were released on Metal Blade Records, did not chart in the United States. The band was then signed to Def Jam Recordings by Rick Rubin, who produced "Reign in Blood" (1986). The album helped Slayer break into the Billboard 200 for the first time, peaking at number 94.
After "South of Heaven" (1988), Slayer signed to Rubin's new label, Def American, and released "Seasons in the Abyss" (1990). After the album was released, Lombardo departed Slayer and was replaced by Paul Bostaph.
1994's "Divine Intervention," the first album to feature Bostaph, debuted at number eight in the US, the band's best chart performance at the time. "Diabolus in Musica" (1998) was noted for its nu metal traits, while "God Hates Us All" (2001) created controversy for its graphic artwork.
Bostaph left the band due to an injury and was replaced by former member Lombardo. "Christ Illusion" (2006) was Slayer's most successful effort, debuting at number five in the US and winning two Grammy Awards.
"World Painted Blood" (2009) features the songs "Hate Worldwide" and "World Painted Blood" which were both nominated for Best Metal Performance at the 53rd Grammy Awards, and the album peaked number two on the US Top Hard Rock Albums chart, as well as twelve on the Billboard 200
Slayer has earned nine Gold certifications from the Recording Industry Association of America.
---
Tom Araya - vocals, bass
Jon Dette - drums
Kerry King - guitars
Gary Holt - guitars
---
Discography:
Edit
Show No Mercy (1983)
Hell Awaits (1985)
Reign in Blood (1986)
South of Heaven (1988)
Seasons in the Abyss (1990)
Divine Intervention (1994)
Undisputed Attitude (1996)
Diabolus in Musica (1998)
God Hates Us All (2001)
Christ Illusion (2006)
World Painted Blood (2009)
---
Website: http://www.slayer.net/
---
Ad blocker interference detected!
Wikia is a free-to-use site that makes money from advertising. We have a modified experience for viewers using ad blockers

Wikia is not accessible if you've made further modifications. Remove the custom ad blocker rule(s) and the page will load as expected.